Here we are on the last day of 2011 and I'm taking a look back at my year in Ponyland.
Ponies: I haz them
Just at the end of 2010 we saw the first G4s showing up in stores here in Canada. I bought my first G4 (Twilight Sparkle's Hot Air Balloon) on New Year's Eve last year. A lot more G4s have gone through the stores since then (and a lot more have joined my herd.)
In May I made my non-Pony Con debut, as a guest at Anime North in Toronto giving two panels on MLP. It was there that I learned of the extent of the Brony community (Ponies are cool? When did that happen?) I was shocked at the number of people who attended my panels and who seemed genuinely interested in learning about customizing and collecting.
Customizing Panel at Anime North
In July it was off to the MLPFair for the 6th year in a row, and back to Hasbro Headquarters for the 2nd time. I had a great time, as always, got to see lots of old friends and meet some new ones, as well as meeting some old online friends in person for the first time. I also added some gems to my collection and saw some amazing customs by some amazing artists.
My booth: Fun at the Fair
Just some of the amazing customs in the contest
Playing Pony Price is Right with Brightglow07 (hosted by GirlBuffalo)
In November, I did my 2nd non-Pony Con as special guest at N2U in Ottawa. Another great experience in which I got to hang out with the local Brony community a bit more. I'm really hoping we can get an Ottawa Brony-Collector meet set up sometime in the near future.
In December I participated in the largest online swap I've ever done: the MLPArena Advent Swap 2011. I had an amazing time shopping for my partner and I was totally spoiled by the swapper who bought for me. I have some amazing new things in my collection that I probably wouldn't have had for ages yet if it hadn't been for this swap. I can't wait to do it again next year.
This pile went off to my partner.
This is what I received. And this is only one day's worth!
In the meantime, I've been customizing, but slowly this year. I've finished only 16 customs this year, but I've been happy with the results of each one, and so have the owners of those who have travelled out into the world. This brings the total number of customs I've made to 135.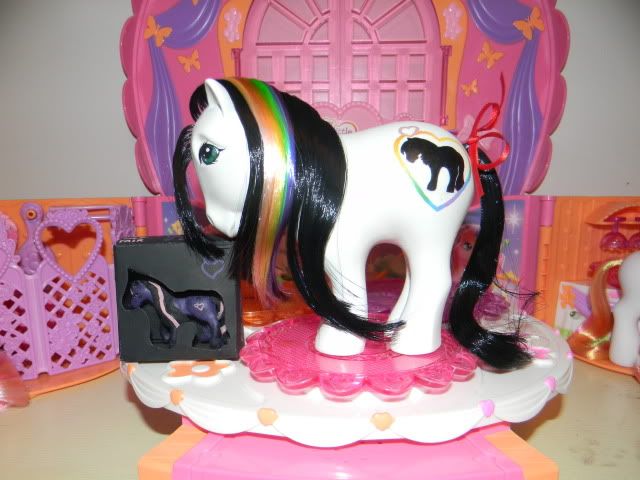 Custom 128: The Collector Pony
As of December 31st, 2011, my collection looks like this:
Total Ponies: 524 (Hasbro creations)
G1s: 195
G2s: 26
G3s: 243
G4s: 23
Styling size: 5
Plush: 22
Special Ponies (Fair exclusives, etc): 37
Customs I've made: 46
Customs made by others: 31
Mint SS Crumpet: one of the highlights of my collection
That's Elfpony's Year in Ponies. What happens next year? Even more Pony goodness!
Happy New Year!
Elf