Glad you all enjoyed the displays again this year. I've had a few questions that I'll share with you now.
Q: How long does it take to set up the display?
A: It usually takes me between 8 and 12 hours to fully set up the display, but this is after I've decided on a theme and made some initial plans. Once that's decided I set up the playsets and larger pieces according to the plan. Then I start adding the background items and accessories, starting with the innermost areas of the display. The last step is to add the ponies, and make adjustments to get everything to fit.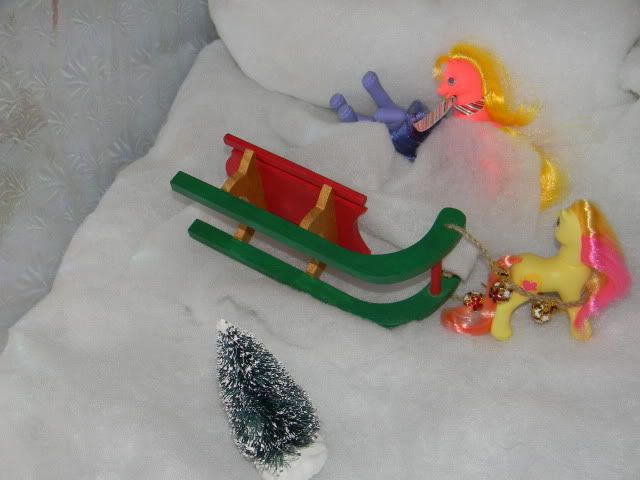 Q: How do you decide which ponies will be in the display?
A: Initially, I was using the winter/Christmas ponies that I have in each display, but at a certain point there got to be an awful lot of holiday ponies and there wasn't room for anyone else. Then I decided to start using other ponies, not necessarily only the holiday-specific ones. Now I consider the scenario I have planned and which ponies I think will fit best in there. If the part the pony is playing is fairly generic, then I may chose a pony who I feel is a little under appreciated.
Q: Where do the special (non-pony) accessories come from?
A: Although I try to use as many pony accessories as I can, there aren't that many that are specific to the Christmas season. A few (like the gingerbread house, yule log, Christmas pudding, and cookies above) I have made of Fimo clay, but most of the holiday decorations come from craft and dollar stores. There are many miniature decorations available at these places, although some are a bit pricey. A few odds and ends I've picked up from Value Village as well. I also have many custom made scarves and other outfits for the ponies, most of which were made by friends.
Elf