As of May 24, it will be only 48 days until the start of the 2014 MLP Fair. For those of us preparing to go, panic begins in 3...2...1...
*ACK!*
As usual, my preparations will come down to pretty much the last minute before we hop in the car to head out. This year, I feel particularly unorganized (do I say that every year?)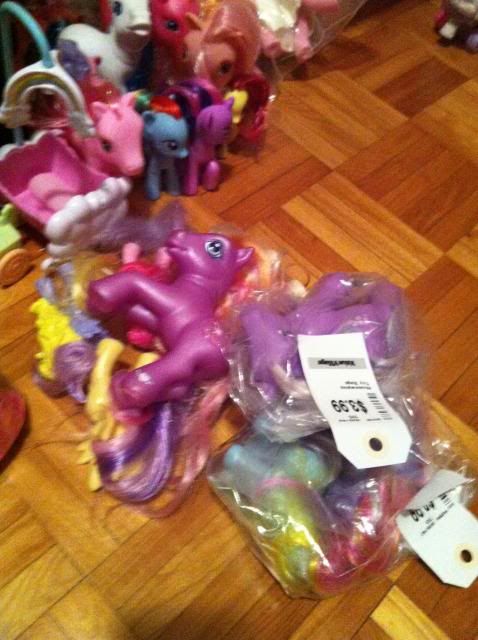 I have to stop going to Value Village, I keep finding more ponies to clean.
This weekend I'm focusing on Fair preparation, hoping to finish cleaning all the ponies I have for sale. I may even get them packed (if they dry in time) and then I'll have some more space to move in the Geek Cave.
Just a few of the ponies I may be selling this year.
My preparation also involves going through my own collection and picking out any ponies I no longer want so they can be prepared for sale too. I've lately managed to pick up several ponies that were doubles of ones I already had, but who might be upgrades for me. I've had to compare the two ponies and decide which one I'll be keeping and which will be sold on (not always an easy choice, but I don't keep doubles).
White body with marks and faded symbols or yellowed body with no marks and dark glitter?
There is still much work to do on the booth display, and the custom ponies for sale and contest entries. Accessories to organize and everything needs to be priced. 48 days to go...
*ACK!*
Elf