When one is a customizer, it's easy to focus on the total recreation of a pony. But there's a place for restoration too, especially with vintage collectibles. When something is hard to find, even in bad condition, it's sometimes better to leave well enough alone than risk damage. At the very least, one should try restoration or rehoming a rare vintage piece rather than customizing it. (I'm not saying don't customize an HK Peachy - possibly the most common of G1 ponies - I'm saying don't customize a Greek Peachy no matter her condition she's worth more in her original state.)
Here's another of the G1s I actually got around to restoring. I'd been trying to get my hands on a decent Fizzy for awhile, but I was always disappointed in the condition of the ones that came through my hands. Finally I decided that I'd just restore one rather than keep hunting.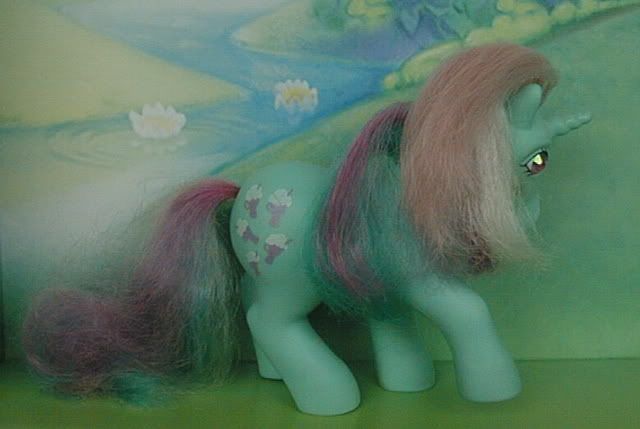 This particular Fizzy had a decent body, but her hair was a dry, brittle mess and her symbols were faded and scratched. Her eyes also lost their original sheen, which is common in TE ponies, and not something that bothered me overmuch.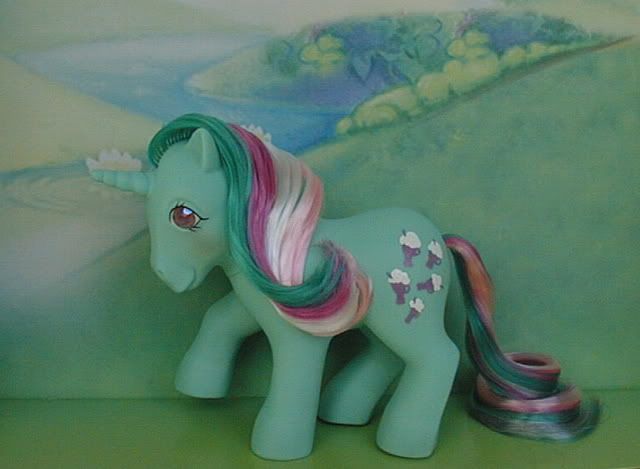 By this time the same nylon hair that Hasbro uses was available for customizers to purchase, so I went the route of rehairing this pony. I decided to switch thing up a bit, though, and reversed the colours in her mane. This actually makes the toy Fizzy match her appearance in the MLP cartoon. I also repainted her symbols, carefully going over the original scratched versions. Her whole appearance is brighter and cleaner. She just looks like a happier pony!
Elf