Last weekend being a long one, and me being alone in the house (with five cats), I got quite a bit of customizing done. These are all works in progress (WIP) for Ottawa Geek Market in October. I must say, I'm quite happy with the progress and I may actually get all 12 customs I have planned done in time.
So many full body repaints...
So far I'm working on 9 customs all at the same time. There are three others I'd like to do before the event, if I have time. Most of them are G4 so far, but there will be a few G3 as well. The three I haven't started yet will also be G3 if I get to them in time. Since the FBRs have gone so well, I'm hopeful everyone will get done, but it will depend on how the rehairing goes too.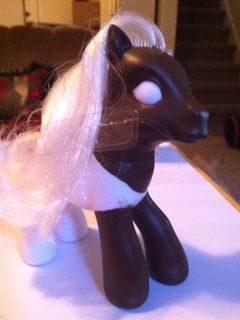 Can you guess who I will be?
Elf