This post is rather late to the game, but since the Ponies arrived at BAB while I was on hiatus, I'm just getting to posting now. I've been wanting to Build a Bear for ages now, but I've held off because I have limited space for plushies. However, when they're offering plush Ponies, how am I going to say no to that?
And because I have a serious weakness for plushies, I got both Pinkie and Rainbow Dash. I couldn't help myself, they were far too cute and well made to pass up.
Also, my Pinkie Pie has roller skates. Because, Pinkie Pie! On roller skates!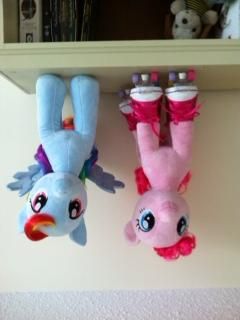 Elf